May 11th, 2012 by Lior
What would your ideal bedroom look like?
Mine? I really like fresh and light shabby chic decor, pastel colors, floral designs and lacy white trim. If I were to put together a selection of shabby chic bedroom furniture that encapsulated the kind of style I like, it would look something like this: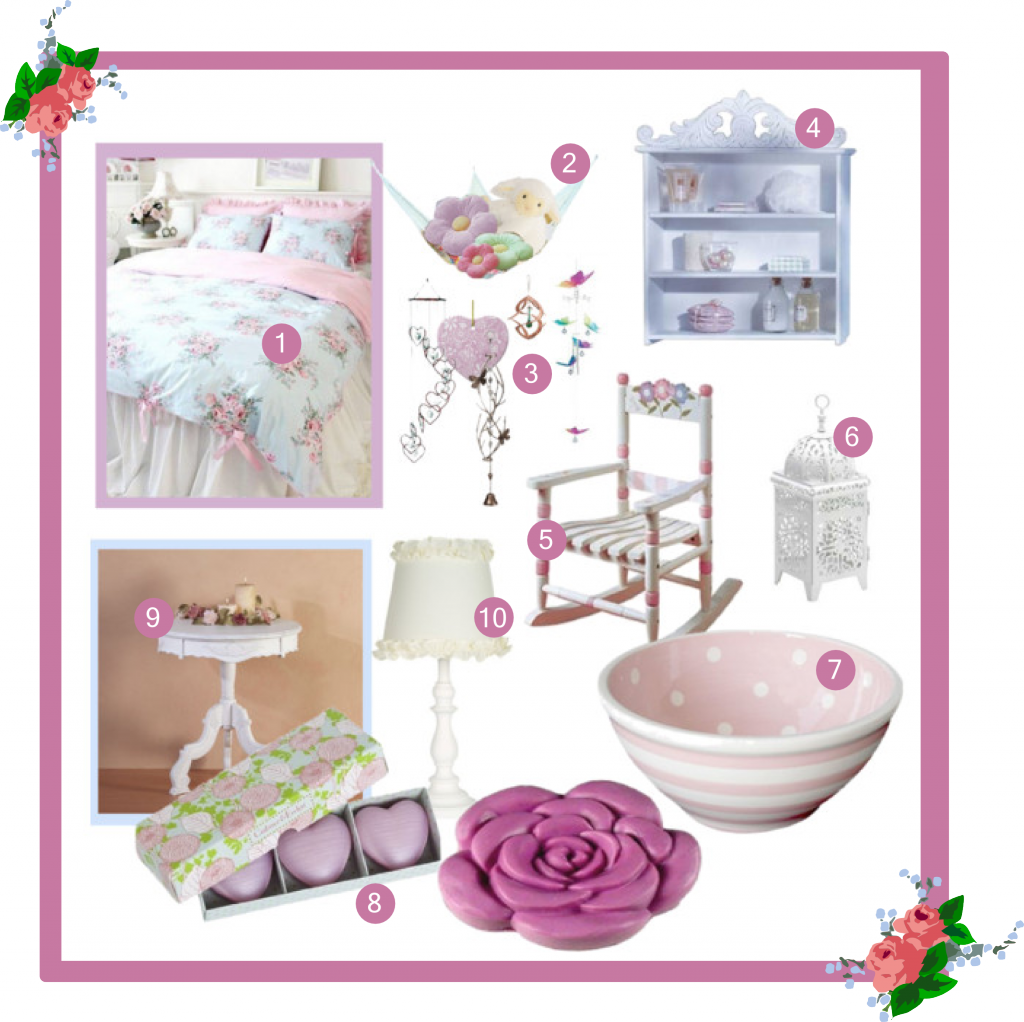 ABOUT THIS SHABBY CHIC GIRLS BEDROOM DESIGN:
If you would like to purcahse any of the items shown here, click on the highlighted pink text below to get to the site where these items can be purchased.
1. Shabby chic pastel blue & pink floral bedding:
I think this cotton floral bedding set from Victoria's deco is really pretty, from the bunches of roses to the ribbons that tie up the end of the duvet. It looks fresh, clean, delicate and romantic, and I think it epitomises the very essence of everything that is girly. It would look great in a simple decorated predominantly white bedroom with hints of pastel blue and pink bedroom decorations.
(On Amazon.com ; on on Amazon.co.uk
)
2. Tiny indoor hammock:
I have one of these in my own bedroom which I put up mostly so that I'll have somewhere to hang my collection of mobiles and wind chimes from. You can hang it high up in a corner of a room to allow you to hang pretty ornaments from them. To bulk it up a little so that it keeps its shape, I fill my hammock with cute plush toys and pillows that suit the room's decor. For this room I've selected:
3. Mobiles and Wind Chimes:
The picture here doesn't entirely do justice to how pretty mobiles can look in real life. I have over 10 in my bedroom hanging from different places and I think it looks really pretty. The mobiles I've selected for this girls bedroom decor are:
4. Shabby chic shelves:
The swirling carved crown top of this shelf gives it an air of Victorian style which I think works really well with shabby chic decor.
5. Floral white & pink rocking chair:
This would look good in a little girls room but I think with a pillow on it, it could also make a pretty addition to a more grown-up girly girl's room. I love how the pink, white and blue of the chair complements the color theme of the room.
6. White Filigree Candle Lantern:
I feel that floral filigree patterns go well with a shabby chic style. This white-painted metal lantern adds a touch of antique elegance to the room.
7. White & Pink Bowl:
What I really like to do in my room is to get a bowl I like, like this one, and fill it with deliciously scented soaps. I find that it acts a bit like pot pouri, giving your whole room a permanent clean, flower-fresh scent.
8. Attractively shaped soaps:
If you fill your bowl with soaps, you may want to go all out and get ones that look nice. I really like this heart-shaped and rose-shaped soap set.
9. Round white shabby chic table:
A table like this complements the shelves and other white items in this shabby chic girls bedroom set. Note how the curves of the table legs echoes the curves of the shelf's crown. You can get a table like this to make up your bedside table or you can have it elsewhere in the room, perhaps topped with a vase of dried flowers inside or your soap bowl.
10. Frilly white table lamp:
Fresh and bright, this table lamp with ruffle shade completes this girls bedroom decor ideas set.
…
Related Articles
– White and Pink Shabby Chic Bedroom Decor
– Contemporary Girly Girls Bedroom
No Comment
Leave a comment