November 6th, 2012 by Lior
Disney's Minnie Mouse bedroom decor is a popular choice amongst young girls. Here are some ideas to make up your little girl's room in a Minnie Mouse theme.
Minnie Mouse Bedding
This cute pink and black Minnie themed 4 piece Full Sheet Set
together with this Reversible Twin Mini Comforter Set with Sham
make a cute choice of Minnie Mouse themed bedding.
Another cute option is this floral Minnie Mouse bedding set:
. . .
Matching Bedroom Furniture
If you have a bed that's themed with Minnie Mouse bedding, you may opt to go for a sleek and stylish non-Minnie theme on the other bedroom furniture. Matching the above bedding sets could be an elegant black nightstand and dresser like this:
Or white bedroom furniture would also match the bedding if you prefer a lighter, fresher feel:
. . .
If there's room in your girl's bedroom for a chair or sofa, there's this unique piece which would match the Minnie mouse bedroom decor:
. . .
Minnie Mouse Bedroom sign
When I was a little girl I remember looking on very proudly at the sign on my door that stated that a room in the house was just for me! If you think your little girl would like this too, how about this sweet Minnie Mouse girls bedroom door sign?
It's sold on Amazon.com and the name is completely personalizable. To get your girl's name on the sign, simply write the name in the "Gift Message" section of the check-out.
. . .
Minnie Mouse Nightlight
Depending on how old your little girl is, a night-light may be needed, and even this can be found to match the Minnie Mouse room theme:
Matching waste baskets
Keeping with the Minnie Mouse theme, you can even get Minnie Mouse trash cans!
Although you can also go for matching non-Minnie ones that would suit the room decor:
Matching Light Switch Covers for this Minnie Mouse Bedroom
Any pink, black and white light switch cover would go with this Minnie Mouse room. Here are some examples of cute covers for a bedroom like this:
. . .
Ceiling Lamps to suit this bedroom
. . .
Cute Floor and Table Lamps that would fit this Pink Bedroom Decor
. . .
Minnie Mouse Posters to decorate the walls
There are a lot of colors of Minnie Mouse posters to choose from on Amazon.com
and on Zazzle, but I've chosen the ones that best fit the pink, black and white color scheme of this bedroom.
I even found this personalizable Minnie Mouse photo frame poster where you can add your own photo to it: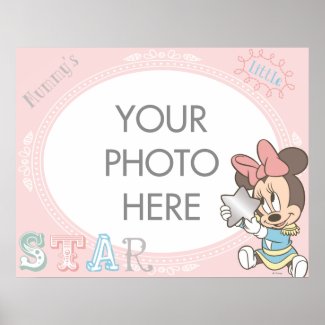 Minnie mouse wall decals:
. . .
Minnie Mouse plush toys for an added cute decor touch
No Comment
Leave a comment