April 4th, 2013 by Lior
Pacifiers are a really useful baby product but they don't just need to be functional – they can also be fun! There are a lot of creative people out there who have come up with some quirky and funny pacifier design ideas which I will be presenting to you in this article. (more…)
March 31st, 2013 by Lior
Today I was checking my Amazon associates account to see what affiliate sales had gathered over there, and I saw that one of the items someone had bought was a set of very quirky and funny eye glasses holders. These ones to be precise:
(more…)
January 3rd, 2013 by Lior
The other day when I was at a store I found one of the most cool toothpaste flavors I've ever seen: cupcake toothpaste!
It's made by a company called Accoutrements and when I saw the cute, pink toothpaste box with a happy smiling cupcake on the front my first thought was that I must share it with you guys! The taste has been described as "cake batter flavor" with a touch of vanilla which sounds pretty awesome to me! Click here to find it on Amazon.com
and here to find it on Amazon.co.uk.
. . .
This all got me thinking what other cool toothpaste types are out there. Here's what I found: (more…)
November 3rd, 2012 by Lior
Mustaches are well-loved as a whimsical, funny design. Traditionally they are inherently masculine but they can also be made to be cute and girly! The following girly mustache iphone cases show just that!
NB The iphone cases below are from Zazzle and the models displayed are for the iphone 5 though if you use the search bar in Zazzle you'll likely be able to find versions of the same designs for previous iphone models too.
. . .
Cute and Girly Floral Mustache iphone cases
May 23rd, 2012 by Lior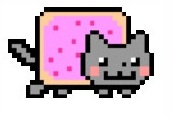 Image source: Benjamin Forrest
I was just browsing the net for cute nail art ideas and came across this video by youtuber "cutepolish" for creating Nyan cat nail art! I thought it was super-cute and had to share it!
(more…)