September 2nd, 2014 by Lior
If you're looking for cool bedding and fun bedroom decor ideas, glow in the dark bedding seems to me to be a good road to go down! I didn't even know this existed until today. Isn't it a cool idea? I thought so! :)
I found these neat girly glow-in-the-dark bedding sets on Amazon.com made by a company called Veratex:
Veratex girly glow in the dark Queen-size bedding
(more…)
February 3rd, 2014 by Lior
Tinkerbell, the fairy from Peter Pan is one of the most beloved of the Disney fairies. She's also a popular choice amongst little girls in bedroom decor. To help create your Disney themed girls bedroom, check out these cute and girly Tinkerbell bedding sets.
All the products shown below are available on Amazon.com. To view them, just click on the picture and it will take you to Amazon where you can look at the particular Tinkerbell bedding that you like in closer detail. (more…)
January 30th, 2014 by Lior
A butterfly bedroom theme can be a cute, girly decor idea. Here are a few suggestions for room accessories that would go with this theme:
. . .
Purple Butterfly Bedroom decor ideas
November 6th, 2012 by Lior
Disney's Minnie Mouse bedroom decor is a popular choice amongst young girls. Here are some ideas to make up your little girl's room in a Minnie Mouse theme.
Minnie Mouse Bedding
July 15th, 2012 by Lior
When it comes to decorating girls bedrooms, it's those little details and unique touches which can really make a room feel special. One such unique touch can be in the light switch covers. Up until recenetly, I didn't realize you *could* get such a wide variety of light switches, but since joining a new design company and designing covers for them myself, I now realize just how many varieties are out there!
For a girl's bedroom, butterfly light switch covers can be a cute touch. Here are some great ones that are out there on Amazon.com:

. . .

Cute Butterfly Single Light switch covers
July 11th, 2012 by Lior
Polka dot decor can be young, upbeat and fun for a girls bedroom. Check out this contemporary pink and black polka dot bedroom decor idea for inspiration.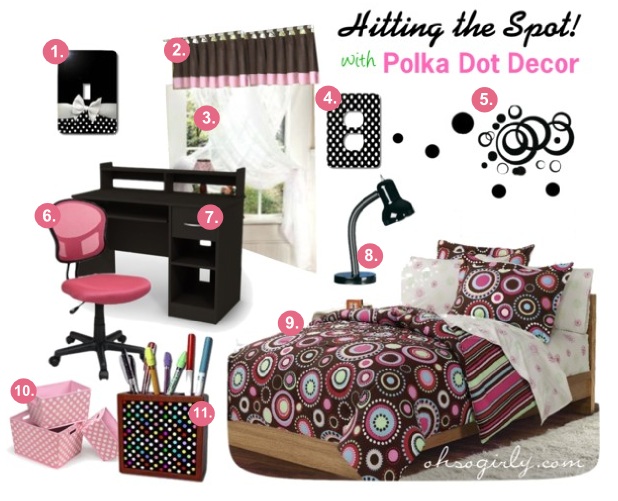 (more…)