May 24th, 2012 by Julia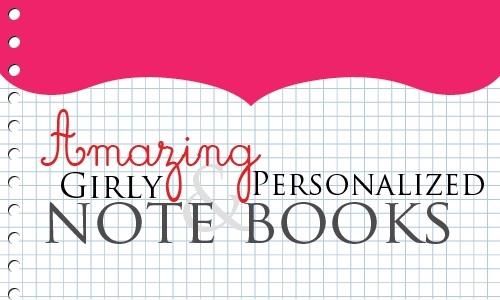 Whether you're writing a poem or a to-do list, the Zazzle custom notebook makes it fun. Add your own name or text to the cover and create a stylish notebook unique to you. Featuring 80 pages of black & white lined, bright white 60lb text paper and a lay flat spiral binding, these notebooks are sturdy and has plenty of room for all your musings. Printed in a glossy, vibrant color, Zazzle's notebook is easy to design and makes a great gift.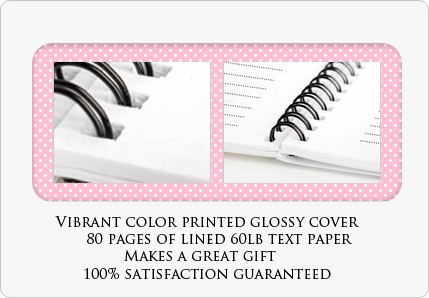 This is surely a great product to design. I love all the girly designs available on Zazzle. I picked some of the cutest designs and also many of my own works. You can customize most of these notebooks choosing font style, size and color!
GEOMETRIC PATTERNS PERSONALIZED

1. Chic Chevron by fancybelle  | 2. Personalized Stylish Modern Neon Polka Dots Notebook by GirlyTemplate | 3.  Personalized Teal & Blue Dots Spiral Note Books by GirlyTemplate
NOTEBOOK FOR RECIPES

1. Fun Ideas for Amazing 100% Vegetarian Recipes Note Book by Jujulili | 2. Meal Planner Spiral Notebook by sweettoothstudio | 3. Beautiful Girl Recipe Jounal Notebook by ArtbyMonica
KAWAII LOVE


1. Personalized Kawaii Bird and Flowers Note Book by GirlyTemplate| 2. Kawaii panda by Chibibunny | 3. Cute bear and pink balloons spiral note book by Chibibunny
STYLISH & MONOGRAMMED


1. Modern Monogram Aqua Chevron Notebook by whimsydesigns |  2. Monogrammed Pink Black Damask Spiral Notebook Jour by cutecustomgifts | 3. Monogrammed Fashion Zebra Print by GirlyTemplate
ROMANTIC FLORAL


1. Tropicalia Flowers Spiral Notebook by GirlyTemplate | 2. Pink Floral and Polka Dots Notebook by GirlyTemplate | 3. Personalized Floral Vintage Dream Spiral Notebooks by GirlyTemplate
1 Comment
Posted on May 27th, 2012 @ 18:09 | Sweet Tooth Studio said:

Thank you for featuring my notebook! Love the blog…looks great.
Leave a comment