May 19th, 2012 by Lior
Sometimes I really like to design my "dream house" in my mind, or by getting inspired by great interior design blogs, sites like pinterest and magazines.
Here's another shabby chic bedroom decor idea based on the kind of bedrooms I would dream to have as a girly girls bedroom in my home one day.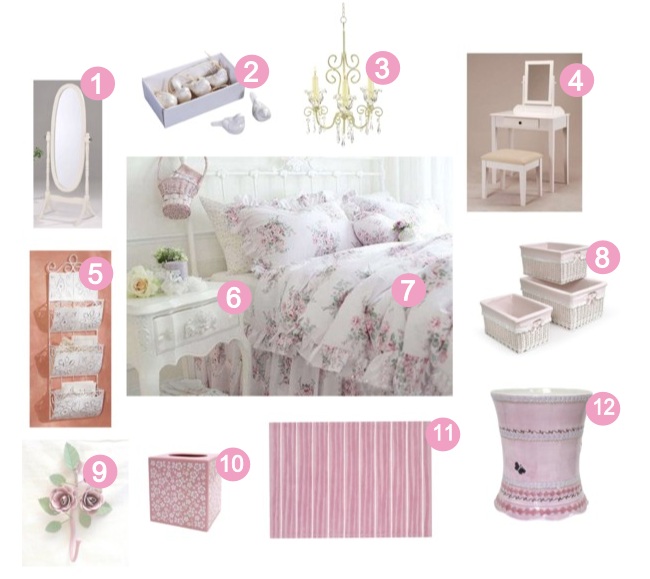 GET THIS WHITE & PINK SHABBY CHIC BEDROOM LOOK
2. Shabby Cottage Chic White Ceramic Bird Ornaments:
Perfect to decorate shelves and tabletops
3. Shabby Chic Elegant Scrollwork Candleholder chandelier
4. White Bedroom Vanity Table with Tilt Mirror & Cushioned Bench
5. Shabby Chic Wall Decor White Letter Holder:
To put things like birthday cards, paperwork and important notes.
6. Carved White shabby chic bedside table
7. Shabby and Elegant Pink Roses Cotton Bedding Sheet Set
8. Cream & Pink Three Basket Set:
You can put these on shelves or tabletops to keep things in organized little compartments.
9. Chic Shabby Metal Rose Wall Hanging Decor:
I have one of these on the back of my door on which I hang my bag, sweater, scarf or coat.
12. Girly Pink Ceramic Wastebasket with butterfly design
. . .
Related Posts
– Pink & Baby Blue Shabby Chic Bedroom Decor
– Contemporary Girly Girls Bedroom
No Comment
Leave a comment