May 17th, 2012 by Julia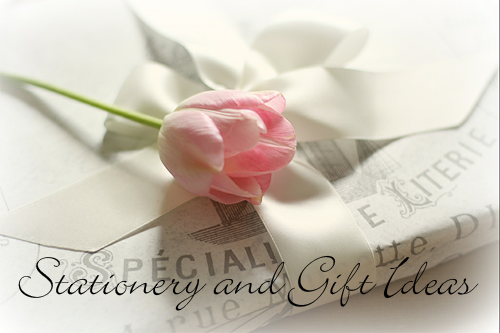 Sometimes I like to think a bit about the past. I was checking my first designs at Zazzle, and it's funny to see some beginnings. I love stationery! When I was a teenager I received many stationeries from my cousin. They were really gorgeous! There were many paper sheets of Barbie and cute teddy bears. I wanted to keep them safe dedicating a folder to store them. At that time, one of the girls of my school asked me to see this collection, as she had a collection too. So after school I went to her house and we spent some time looking at each other's amazing stationeries. I was getting late to get my bus back home, and I probably forgot the folder at her house.
The next day, when I asked her if she could bring them to me, she said that she didn't have my folder at her place. I thought "how come!!! I can't believe I lost them". Deep down I still think that she lied that day. She probably kept all my goodies to her. Anyways…
I got a great motivation to work with Zazzle stationery sets. They have an excellent selection of paper types for letterheads, stationery and envelopes. They also have amazing binders and lately they added notebooks and notepads to the collection. I'll show these on a future opportunity; for now I'm going to show you some of my first product sets I created there.
TEAL GAUDERIA SET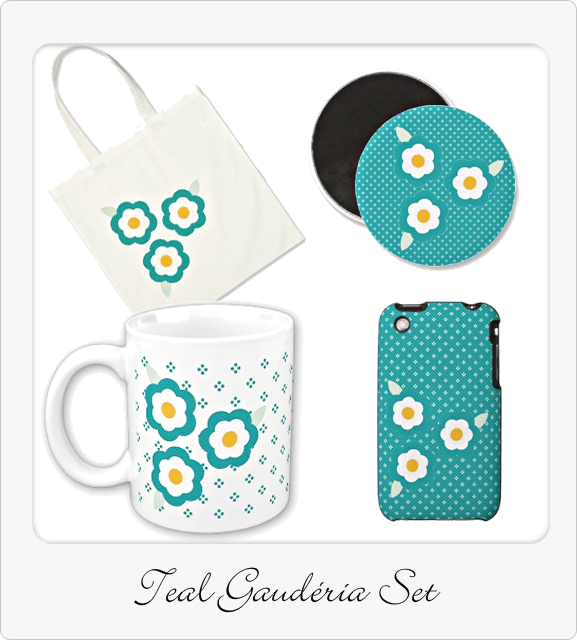 These three little flowers were one of my first designs. Initially on a bright pink color, they come with a border in teal green, the inner part in white and the middle in warm yellow. It was also my first time designing patterns, as we can see the lovely polka dots background. I always thought of magnets to be a good way to hold photos on metal boards, so basically 95% of my magnets are made mainly of drawings and patterns.
LINKS: MUG | BAG | MAGNET |iPHONE 3 CASE (also available for iPhone 4, blackberry curve and bold, Samsung Galaxy and Skin for many devices)


HELENA RED FLOWERS SET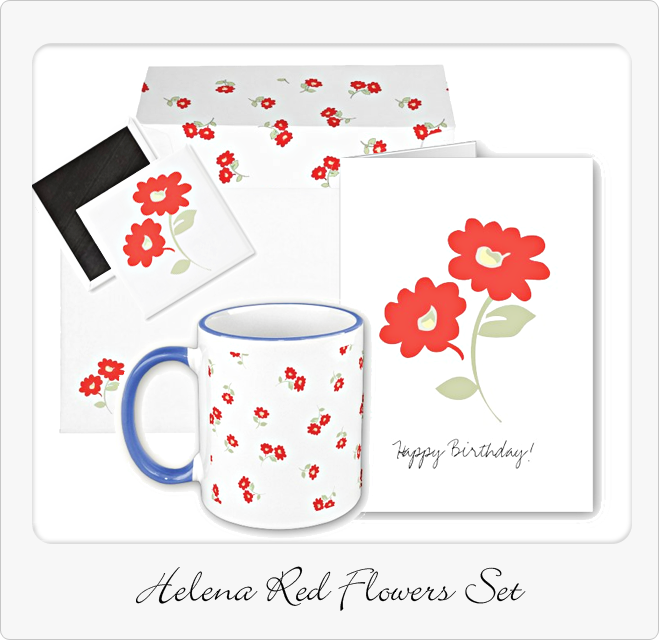 Delicate red flowers illustrating graciously many products. The greeting card is ideal for any occasion as you can easily customize the text! Why not use it as mother's day and thank you notes? You can also personalize it with your name. The envelopes are just the right size for the cards. This design was meant to show elegance and simplicity in a girly style.
LINKS: MUG | CARD | ENVELOPE | MAGNET


FAB MONOGRAMMED SET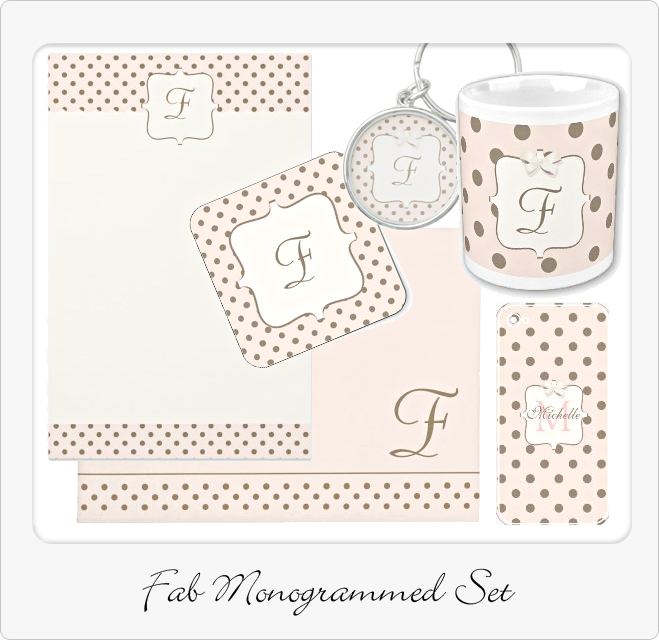 This sweet style is inspired by Paris. The soft blush pink and the small light brown polka dots add a french style to this stationery set. The script font is very elegant and the frame add a special vintage touch to it. You can easily customize any of these products at Zazzle without any additional cost.
LINKS: ENVELOPE | STATIONERY | KEYCHAIN | MUG | STICKER | iPHONE 4 SKIN (actually you can select this style for many eletronic devices like iPods, iPads, Macbooks, Kindles and more!)


BELLA MONOGRAMMED SET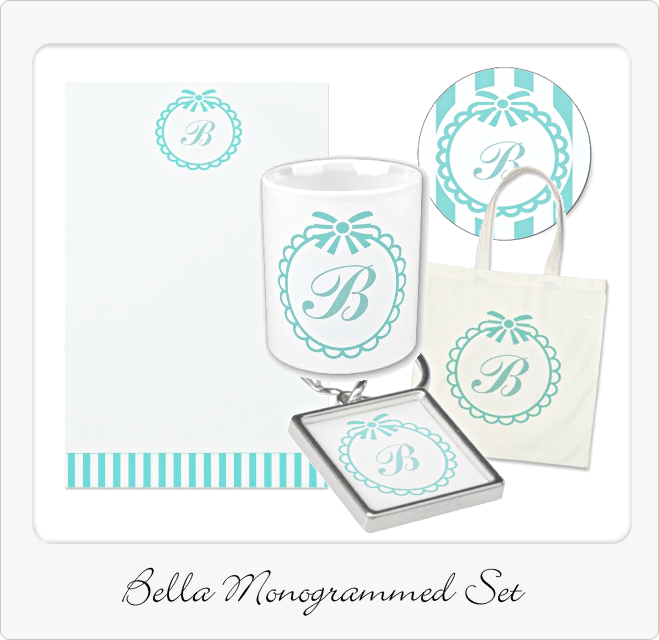 I simply love this design! It's simple and elegant at the same time.  It features your monogram in this gracious frame. These are a few products with this same design. You can also find light blue envelopes to match at my Zazzle store. This design comes also in yellow and pink. Ideal as gifts too! I am sure any girly girl would love it! I received a very good review on the Bella Monogrammed Grocery Bag:
About the product:
"I purchased two Bella Monogrammed bags – one for each of my daughters to be used as a Day Care bag. The day care suggested the reusable grocery bags because they can stand up by themselves, so I started researching. I discovered the Bella Monogrammed Bag on Zazzle and decided to try it. The price was wonderful at ~$13 The ability to personalize the bags was a huge plus. The canvas bag is great quality and very durable. I highly recommend this product for a variety of uses."
About the print:
"The quality of the printing is great. The design, font, color and size are exactly as pictured in the preview."
– Sarah_S

It's very encouraging to receive good reviews on your products, to know that someone loves and uses your designs. To know that what you imagined people would like is really a success is the best reward any designer can have! :)
With any product I create, I truly expect that someone will find them useful. I thank Zazzle to help me accomplish that.
No Comment
Leave a comment