January 31st, 2014 by Lior
Floral clocks can add a touch of feminine class and style to a room. Whether you are looking for a vintage, shabby chic floral wall clock or a more modern / contemporary floral clock, this article presents a huge range of all these types of floral clocks and more. Below you'll find a selection of my favorite picks of floral clocks, gathered from the wonderful sites Zazzle.com and Amazon.com
.
For readers who are hearing of Zazzle here for the first time, it is a fantastic website with a huge range of designs for a lot of products. Although it is an American website, they ship internationally and allow you to view the prices for all products in your country's currency. To view it in your country's coin, click through on the clock design you like below and then change the URL from "zazzle.com/etc" to your country's suffix, e.g. "zazzle.co.uk/etc" for UK visitors.
I hope you enjoy browsing and perhaps even find something to suit your taste here!
—
Blue Floral Clock designs
Vintage blue floral clocks
March 6th, 2013 by Lior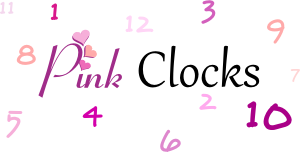 The wall clock you choose to furnish a room is an important part of the room decor since it's probably one of the items of furniture we end up looking at more frequently than others.
If you're looking for a cute and girly wall clock how about a pink clock?
This article features some of our favorite picks of pink clocks from the website Zazzle. To see the products in more detail, click on the image and it will take you to the appropriate page. Although the price is shown in US dollars, you can also view it in your country's currency by changing the URL from zazzle.com/etc to your country's suffix, e.g. for UK visitors change it to zazzle.co.uk/etc. (more…)