May 22nd, 2012 by Lior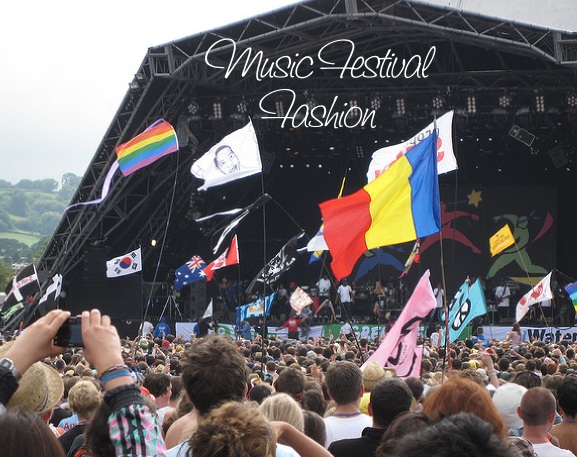 Picture credit: russelljsmith
As summer approaches, musical festival season dawns. But what to wear to a festival? Typically music festivals are all about being casual, comfortable, fun and free. Here are a few ideas of girly festival fashions for you!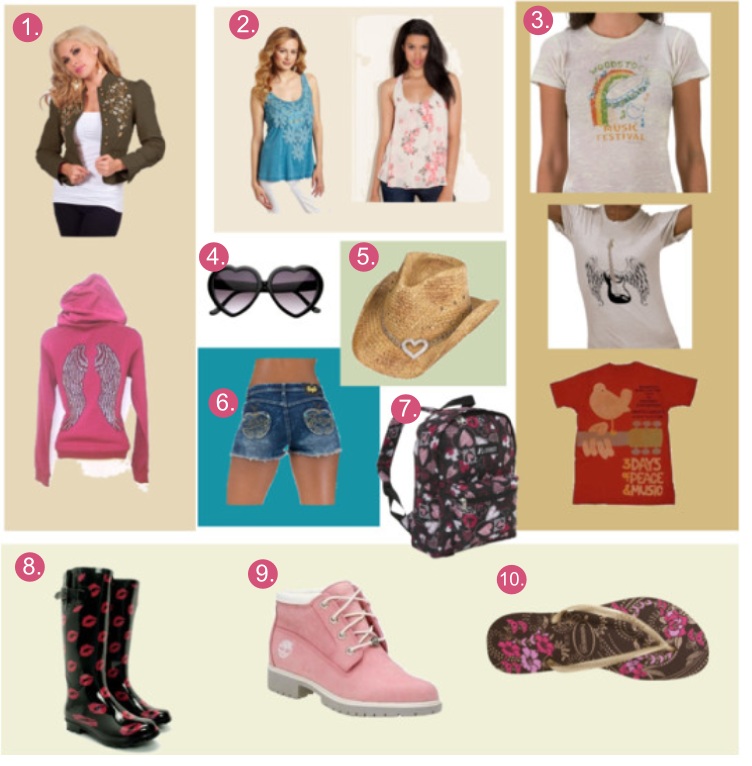 1. Something warm
I know festivals happen over the summer, but if you live somewhere like the UK, like me, hoodies or something warm is kind of essential, because even in the summer ya never know whatcha gonna get. Plus, it sometimes gets chilly in the evenings once the sun sets.
Featured here are a Cropped Urban Denim Style Blazer Jacket and a hot pink angel wing hoodie.
Probably a good idea to also take some waterproofs with you too in case it will bucket down. A roll-up lightweight one would be good.
2. Vest tops or Tank tops
Vest, tank or strappy tops are always a good summery, girly option. Featured here are a blue floral tank top and a GUESS beige sleeveless floral tank top. Pretty, airy and light.
3. Music themed graphic top t-shirts
Ok, these maybe aren't as girly as some of the other stuff on ohsogirly.com, but if you're going to a music festival and want to get in the mood, some music-themed t-shirts are a great option! Featured here are:
– Woodstock Music Festival vintage style t-shirt
– Guitar with angel wings
– Peace and music Woodstock t-shirt
4. Pretty Shades
Remember to bring a funky pair of sunglasses to the festival 'coz you're sure to be out in the sun a lot. These cute heart shaped sunglasses are perfect for those out for a fun, girly look.
5. Cute Hat
Hats are really important if you're going to be spending all day out in the sun. And if there's one place you can get away with wearing all sorts of cool or crazy hats it's in a music festival! Case in point, the picture below! On a more practical note, I really liked this girly cowboy hat with jewelled heart decoration.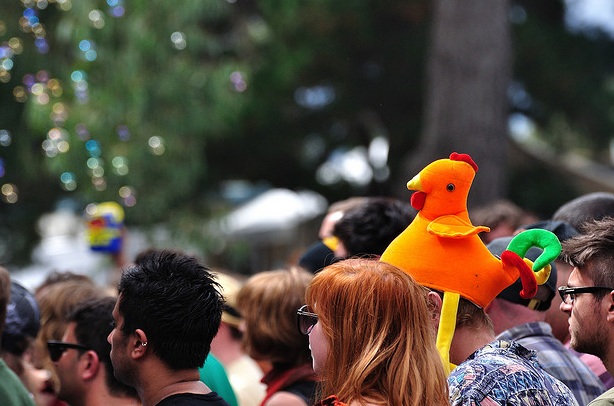 Picture credit: miss.libertine
6. Denim shorts
Handy for a hot summer's day, light and small to pack, denim shorts make a great addition to any music festival overnight bag. I thought these Apple bottom denim shorts were adorable.
7. Cute backpack
Practically speaking, backpacks are great to stuff a few essentials in and are much easier to carry with you than a suitcase of some sort! There are so many cute backpacks you can choose from to take with you to a music festival. You can check out a few ideas in some of our previous articles (eg. floral backpacks, heart backpacks, bow backpacks). The bag featured here is a black Everest pink hearts pattern backpack.
8. Wellies
This "festival essential" depends on where your music festival is in the world, but if it is in the UK or somewhere like it, Wellington boots are a must. Rain + music festival = mud galore. There are loads of cute girly boots to choose from including the featured hot lips wellington boots.
9. Regular shoes
Remember to bring some comfy shoes with you too. Featured here are pink Timberland Women's ankle boots which should be comfortable to walk in.
10. Fantastic Flip Flops
Flip flops are one of those things that are really light and easy to stuff in a backpack plus are great for hot weather and suit the casual vibe in music festivals. The ones featured here are pink floral Havaianas womens flip flops.
2 Comments
Posted on May 23rd, 2012 @ 07:04 | Meghan @ Wishful Thinking said:

Great list! Wellies are an absolute must here in the UK as things tend to be pretty muddy all year round! Oh and I couldn't go to a festival without a cute hat and a hoodie!

Posted on May 23rd, 2012 @ 12:51 | Katie*Belle said:

Fun picks! This makes me want to go to an outdoor music festival immediately!
Leave a comment