June 30th, 2012 by Lior
Sun, sea and surf has a definite appeal so perhaps it is no wonder that nautical products are pretty popular. No matter how far away you are from the seaside, one room in the house that is somewhat linked to the sea (albeit through very long pipes! :)) is the bathroom. If you love the nautical theme, maybe you'd like experiment with nautical bathroom decor and some pretty nautical shower curtains! If that's the case, check out these girly nautical shower curtain designs:
. . .

Lilac Nautical Shower Curtains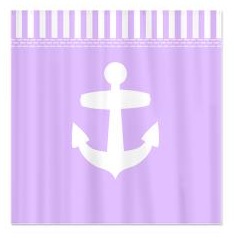 . . .
Pink Nautical Shower Curtains
. . .
Bright Turquoise Nautical Shower Curtains
Most of these are designed by me and link to my InspirationzStore Cafepress shop where they can be purchased and shipped internationally.
. . .
For more colors and variations on these nautical shower curtains, have a look at the selection of anchor shower curtains here:
– Anchor shower curtains
Related posts:
No Comment
Leave a comment