July 7th, 2012 by Lior
Whilst listening to music on Spotify I came across the music of Elizabeth Mitchell and ever since then I've had her songs in my head!
Elizabeth sings cute folk songs for children in a beautiful, sweet voice. Her music generally has a folksy, acoustic feel. I found her songs to be really uplifting and it's so cute that she gets kids to sing along with some of her recorded songs! It really made me smile :)
I think these happy songs can be great for kids as well as for adults who enjoy reconnecting with the part of them that used to like kids songs when they were younger!
Here are some of my favorite songs that are sung my Elizabeth Mitchell:
. . .
This little light of mine

. . .

Three Little Birds

. . .

You are my Sunshine

. . .

So glad I'm here

. . .

Little Liza Jane

. . .

Little bird, little bird



. . .
Where can you buy Elizabeth's songs:
You can find out more about Elizabeth and about where she is currently performing at youaremyflower.org and you can buy her songs on Amazon either individually or as a set in one of her albums.
Click here to buy Elizabeth's songs on Amazon.com
Click here to buy Elizabeth's songs on Amazon.co.uk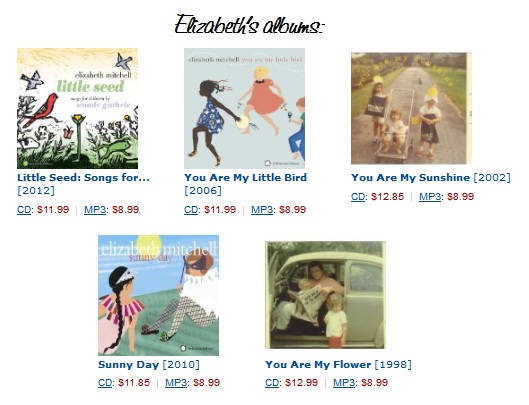 Related posts:
No Comment
Leave a comment