June 30th, 2012 by Lior
Sun, sea and surf has a definite appeal so perhaps it is no wonder that nautical products are pretty popular. No matter how far away you are from the seaside, one room in the house that is somewhat linked to the sea (albeit through very long pipes! :)) is the bathroom. If you love the nautical theme, maybe you'd like experiment with nautical bathroom decor and some pretty nautical shower curtains! If that's the case, check out these girly nautical shower curtain designs:
. . .

Lilac Nautical Shower Curtains
June 7th, 2012 by Lior
If you're looking for a great theme for a pre-wedding celebration, how about a beach themed bridal shower? When it's winter, a beach bridal shower can be a fun theme for a party, bringing memories of summery good times and vacations, and when it's summer, the beach theme fits perfectly with that time of year too!
To plan the shower, you'll need beach bridal shower invitations and related stationery, and I've scoured Zazzle to find some of the prettiest ones out there!
These were my top 10 favorite beach bridal shower invitations:
. . .
1. Beach & Sea-shell themed wedding cake Bridal Shower Invitations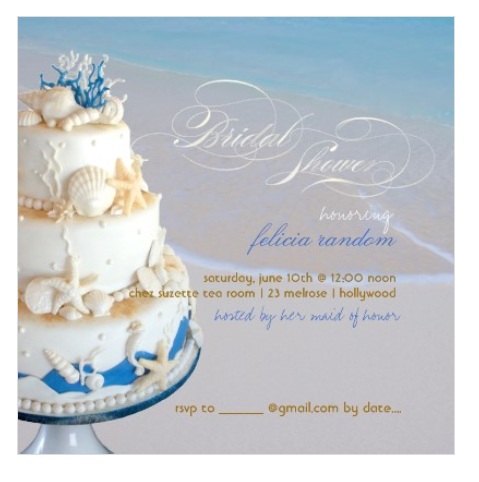 (more…)