November 4th, 2012 by Lior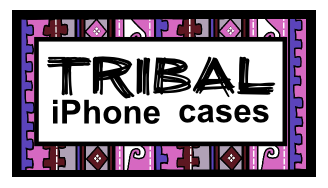 In the past year, tribal designs (sometimes called after particular tribal peoples such as "aztec patterns") have gained in popularity, making themselves seen in many clothing stores and finding their way onto various products on high streets around the world.
These attractive geometric patterns can also be found decorating iphone cases and this article will present some of the most enchanting tribal iphone case designs available.
I have searched through the wonderful site Zazzle to find the tribal and aztec iphone cases shown below and most are iphone 5 cases. If you're looking for another model case, click on the image you like and use the search bar to find that design for the model you are looking for.
. . .

Warm hues tribal iphone cases
This includes tribal iphone case designs that predominantly use the red, orange, yellow and brown color schemes.

. . .

Cool hues tribal iphone cases
These are the tribal and aztec iphone case designs that mostly use blue, green and white color schemes.

. . .

Rainbow tribal iphone cases
These are those tribal iphone cases which make use of so many colors that they didn't really fall into either "warm" or "cool" hue categories:

. . .

Black and White tribal iphone cases
More tribal iphone cases
All the above tribal iphone cases are from Zazzle, made by designers from around the world and are quite rare designs, not found in the shops. However other places you can get tribal iphone cases include Amazon where you can find some great priced iphone cases. Click through on the links to see the tribal iphone cases on Amazon:
– Tribal iphone cases on Amazon.com

– Tribal iphone cases on Amazon.co.uk
No Comment
Leave a comment