May 22nd, 2012 by Lior
With the weather looking really beautiful today, I felt like coming up with a summery, girly fashion set that will keep you both cool, chic and cute all at once. This is what I came up with: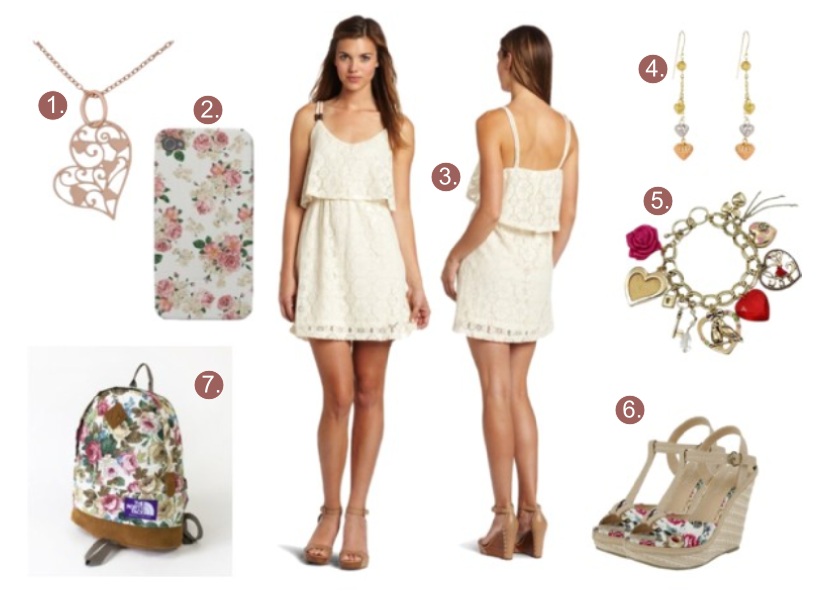 1. Filigree gold heart necklace
2. Pink & White Floral iphone case.
This outfit would also go well with a white lace iphone case.
4. Tri-color Heart drop earrings
5. Hearts & Roses gold charm bracelet
7. Floral backpack by North Face


. . .
More posts on lace products
– Lace iphone cases
– Lace tablecloths
More fashion posts
– What to wear with bow rings
– Girly beachwear: Pink bikinis & Polka dots
– Swimdresses
2 Comments
Posted on May 22nd, 2012 @ 17:26 | AccidentallyBlogger said:

Oh I love white and lace together :)

Posted on May 22nd, 2012 @ 19:23 | Chelsea said:

This is a very sweet look. I love the floral iPhone case. xo
Leave a comment