January 30th, 2014 by Lior
A butterfly bedroom theme can be a cute, girly decor idea. Here are a few suggestions for room accessories that would go with this theme:
. . .
Purple Butterfly Bedroom decor ideas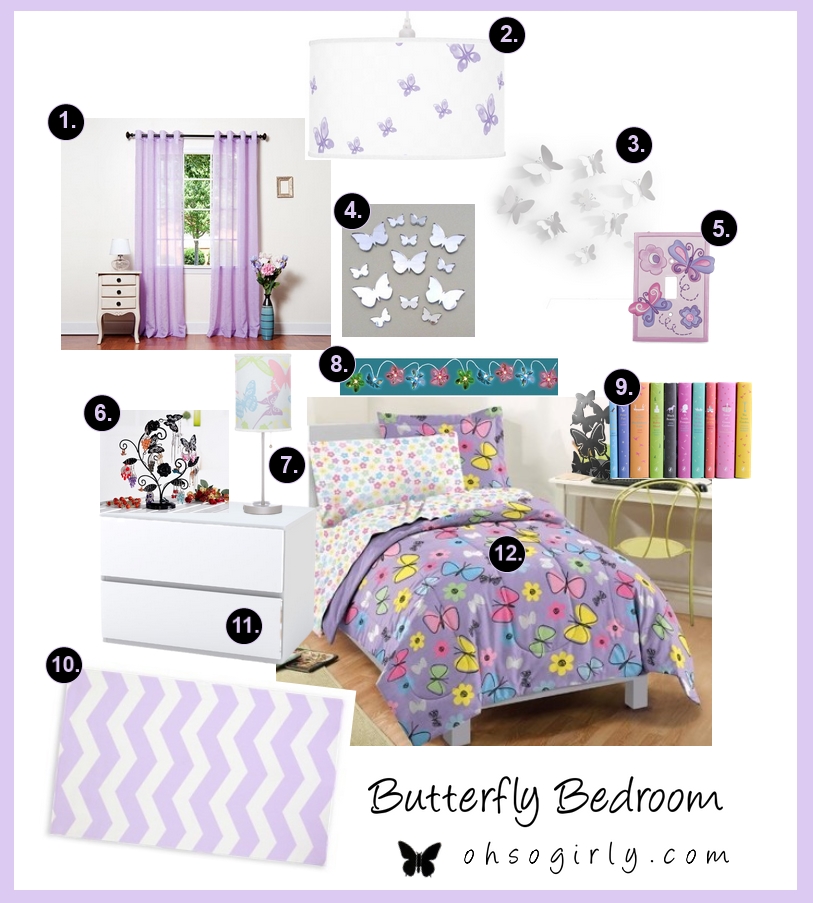 The numbers in the picture above relate to the products below. I've made each product below clickable so that it's linked to where they can be purchased online.
1. Lilac purple Curtains
2. Purple and white butterfly Ceiling lamp
3. White butterflies Umbra Mariposa Wall Decoration
4. Mirror butterflies wall decoration
5. Purple Butterfly light switch plate cover
6. Black butterfly jewelry stand
– a good jewelry organizer / earring displayer / ring rolder / bracelet and necklace hanger
7. Girly Pastel Butterfly table lamp or desk light
8. Colorful Plumeria Flower fairy lights
9. Black metal butterfly bookends
11. White night stand
12. Purple butterfly duvet cover bedding set
. . .
Pink and Lilac Butterfly-themed Bedroom interior design decor
The above bedroom decor idea is by Sweet Jojo designs and the full bedding set can be purchased here
.
The matching rug that goes with this bedroom decor can be found here
.
. . .
Pink Butterflies Bedroom accessories & decor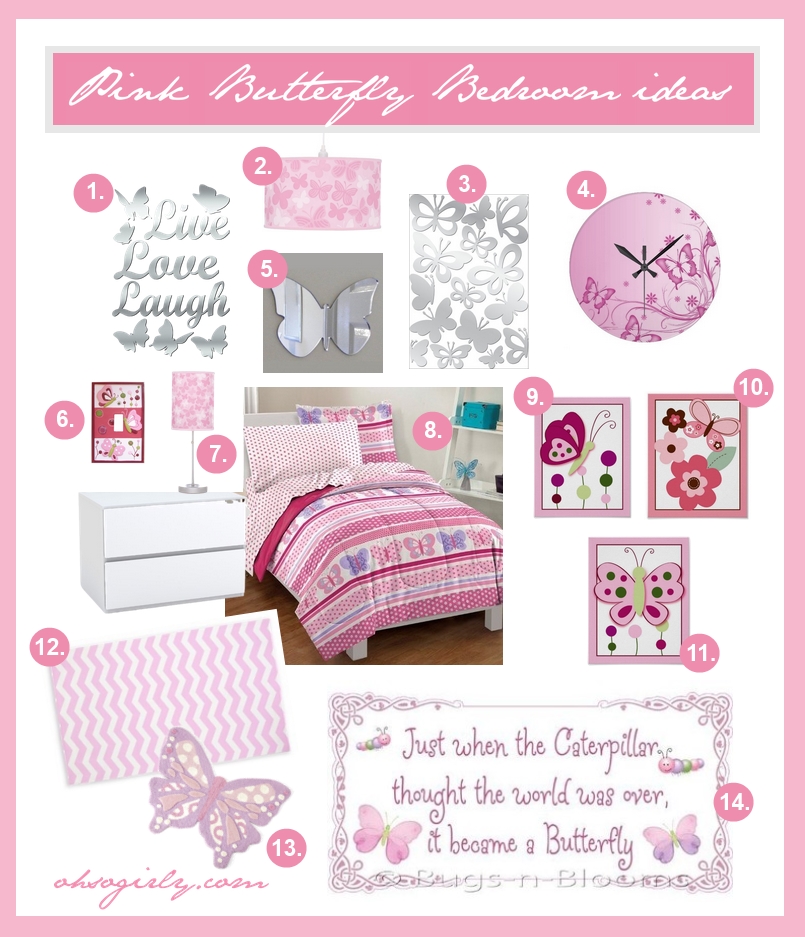 The numbers in the image above correlate to the products that are linked to below:
1. Live Love Laugh quotation silver reflective-mirror wall stickers
2. Sweet Pink butterfly pattern Ceiling lamp lighting
3. Modern and Stylish Silver Butterflies reflective wall sticker decals
5. Butterfly Wing Mirror (20cm x 14cm)
6. Raspberry pink butterfly Light Switch Plate Cover
7. Girly pink butterfly pattern Desk lamp
8. Pink polka dot Butterfly Duvet cover / comforter bedding set
9. Raspberry Pink butterfly poster
10. Butterfly and Pink Flowers nursery wall art print
11. Light pink butterfly print poster
12. Pink Chevron Rug
13. Butterfly-shaped rug
14. Cute butterfly Quote wall decal
: This wall sticker decoration contains one of my favorite quotes: "Just when the Caterpillar Thought the world was over, it became a Butterfly".
No Comment
Leave a comment