April 28th, 2014 by Lior
Today I discovered a really talented artist called Lyn Hamer Cook who specializes in pet art, particularly dog paintings. I fell in love with her realistic, whimsical art style, particularly how she often chooses to feature a pet's favorite toy or teddy bear alongside them in their portrait. :)
Here are a few of my personal favorite pet portraits by Lyn (aka the Dogartist or ladyartista on Zazzle):
June 9th, 2012 by Lior
Every day I enjoy finding a new talented individual who creates beautiful things. Today, I discovered the artist Pamela Gladding who creates stylish flower paintings amongst other beautiful paintings.
Here is a selection of my favorite floral paintings by her:
Stylish Floral painting: Damask Tulip IV
You can buy it From Art.com.
I think that this hot pink tulip painting would look beautiful in a girl's bedroom with a contemporary white, black and pink color scheme!
May 28th, 2012 by Lior
There's just something about love bird pictures which really captivates me and brings out the girly romantic in me! So when I saw these colorful love bird silhouette paintings by Yiqi of QiQi Gallery, I immediately loved them!

. . .
Romantic art: "Love Birds on Branches" painting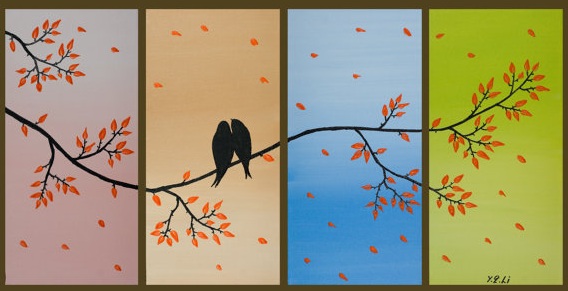 (more…)